I had these beautiful paintings in my kitchen. In fact, I moved them there last week. It just seemed too heavy to me...so I hit blogland looking for inspiration...and I found it.
Have you ever been to cherry hill cottage? It is one of my favorite blogs. Her kitchen is just perfect...and between her kitchen and her sister kathy's kitchen, you are sure to be inspired. I was looking at kathy's cottage kitchen and it hit me. I have some of the same things hanging around my house. Maybe I should move it into the kitchen...duh! I wanted a lighter look in the kitchen and a more sophisticated look in my bedroom...why not switch them around??? So, I did. Isn't it funny how the obvious solution always seems to evade you...at least me at least. So here is what I did. I still need to paint, but now I know the direction I am going...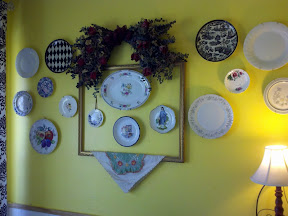 Now I think that is a good start. Now i am a lot more motivated to finish her up. Btw- I named my kitchen Betty...is that weird????
- Posted using BlogPress from my iPad